Amusement Park Bumper Cars for Sale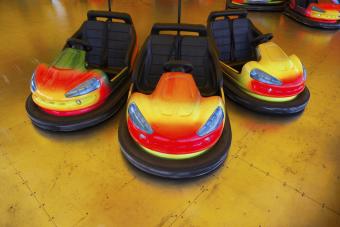 Whether you love to collect and restore vintage amusement park rides, want to add bumper cars (also called dodgems) to your own facility, or are looking to provide old-fashioned entertainment for your family and friends, there are several online resources to find the perfect new or used vehicle.
Ride Development Company (RDC)
Located in Independence, Oregon, RDC claims to be "the leading bumper car manufacturer in the United States." In fact, they manufacture only bumper cars, giving them some credence to their claim (along with their 30 years in business). Their featured models are the electric and gasoline Krazee Wh!rl, electric and battery Krazee Kidz, and battery-operated Krazee Voltz.
While RDC is probably aimed more at the full-scale amusement park looking to add to its inventory or create a new ride entirely, the website is a treasure trove of useful information for anyone who wants to know more about the types of cars to buy, safety tips, or accessories to amp up the bumper car experience. You won't find any prices listed on the site; instead, you'll have to contact their general manager for a quote.
A decided perk of doing business with RDC? Their small staff (currently around 10 employees) guarantees personalized service, and their technical expertise is known throughout the amusement park ride industry.
Majestic Rides
Majestic Rides is another US-based bumper car manufacturer whose site looks a bit like an amusement park itself, thanks to bright colors and flashing lights. Their inventory is fairly extensive, including full, midi, and mini sized bumper cars. The photographs are big and bright and include specs about each car, so there's little question about what you'd be getting.
Majestic tends to have more new models than used (which are sometimes completely out of stock). This is also an excellent company to check out if you need the actual building for your bumper cars, with multiple models and themes available. If you're in the Midwest, the drive to Ohio might be a fun day trip. As with RDC, you won't find pricing online and will have to chat with their sales staff to get a quote.
The company has been around since 1973 and custom builds each piece ordered, so if you've got a dream car in mind, this is the place to go.
Bertazzon America
Bertazzon is a Tennessee-based manufacturer with a fairly limited supply of cars compared to the previous two companies. They do advertise their products are made with hot-dip galvanized steel frames, fiberglass bodies, and a variety of style options, inspired by the art of Venice. The animal cars are especially cute for the smaller kids.
You can also order buildings for your rides, in standard or custom sizes. As seems to be standard with the manufacturers, you have to contact Bertazzon for pricing. The long-lasting framework and longevity of the company - more than 40 years in business - are two benefits worth keeping in mind when shopping around.
Beston Amusement Rides
Beston is a Chinese manufacturer that delivers products all over the world. While they seem to focus more on bumper boats, their inventory of bumper and dodgem cars is still extensive.
Beston primarily does new manufacturing, although they're looking to expand into the used bumper car market soon; you can send them a special request if there's a particular vintage model you seek and they'll reply within 24 hours.
Several of their benefits include designs customized to your specifications, supposedly the lowest price (which you will have to contact them to get - they have both an online form and phone number listed), and the promise of consistent service after purchase to make sure your cars keep running smoothly.
Intermark Ride Group (IRG)
Intermark does all kinds of amusement park rides; they have both new and used rides, divided into helpful, easy-to-navigate categories. You can keep a watch on the "Just Listed" section to get a jump on any competition, or head to the "Rides Reduced in Price" section if you hope to snag a deal.
IRG has been around since 1987 and is based in Nashville, Tennessee (and expanding into South America). They have a large network of buyers and sellers on the lookout for quality products, and they boast "superior customer service."
One of the best features of the IRG site is that you'll generally find the price of the item. So if, say, $89,000 is a little rich for your blood, maybe $16,000 is more up your alley. There's also a list of companies on the website who might help you with financing (IRG doesn't provide this service), along with a list of amusement industry insurance companies you might want to talk to if you're new to this pastime and want to know how to protect yourself.
Fun Attractions
One of the few companies that offers rentals, New Jersey-based Fun Attractions was founded by actor and amusement ride designer Steven M. Poretskin. Many of his products have been seen on television shows and in movies (you can view videos on the site); one of his claims to fame is creating Battery Bumper Cars.
There's a section for used rides, although it's limited. The new ride selection is more extensive, and you know exactly how much your bumper car costs before you add it to your cart. With some of the smaller, kid-sized models starting at around $2,300, they're more reasonable for someone looking to have a plaything rather than starting up a large neighborhood attraction.
If you're in need of parts or accessories, you can get everything from a replacement bumper car pedal for around $150 to a deluxe remote control for around $700. Fun Attractions has partnered with Direct Capital to help you finance your investment, should you want to break down the purchase into more manageable installments.
Swonder Amusement Rides
Located in China, Swonder boasts more than 100 employees and 20 designers and senior engineers to custom-make any bumper car to your exact specifications. They've helped set up parks all over the world and stand by everything they sell.
Their selection of cars is limited to two types: Ground-grid and battery bumper cars. You will have to contact them for pricing, and they guarantee a reply within 24 hours. They also have 24-hour online chat, if you desperately need to discuss your amusement needs at 3:00 a.m.
Swonder's FAQ page indicates that their prices may be higher than the competition, thanks to their superior quality and customer service. However, they also offer a one-year product guarantee and will send out engineers to help you set up if needed, so it may be worth the short time it takes to fill out the online form for a quote.
Alibaba
A truly global site, Alibaba can be read in multiple languages and allows you to search for inventory and suppliers by region/country. There's an extensive listing of bumper cars, and each item has a helpful tag such as "Discount," "Promo Price," and "Free Inspection." The site acts as a middleman (similar to Amazon), rather than manufacturing its own inventory.
Their main office is in China but they have branches all over the world, including the US. Everything you order is backed by their Trade Assurance, and you have more options for payment than some other overseas markets (the ability to use credit cards instead of just PayPal or Western Union, for starters). Your order has to be on time and meet quality standards, or Alibaba will refund your payment.
Since the site sells all manner of items and not just amusement park rides, it might be easy to get sidetracked. The downside when looking at just bumper cars? When searching for them specifically, you'll get pages of results, with no great way to sort them by category. But the listed pricing is fairly clear: You can buy cars per piece, per set, per multiple sets, and so on. If you've got the time and love to hunt for a bargain, this could be an excellent shopping resource.
Ital International
Ital International is a used ride site where you may see some of the aforementioned brand names. Unlike other swap meet-type sites that sell everything, Ital sells only amusement park rides. They're based out of Nashville, Tennessee and are easy to reach by phone.
One of the best things about dealing with Ital is that pricing is generally listed right next to the item. There are a few items that request you call for a quote. The prices quoted are both in US dollars and euros. Another plus in dealing with Ital is that, unlike most of the larger manufacturers, they help you find financing if you're in the US or Canada.
On the flip side, you can sell equipment on their site too, and the sales staff will happily assist you with the process. So if you went into the whole "buy bumper cars" game and are having buyer's remorse, this is a good place to check out.
eBay
Of course, there's always eBay for your bumper car needs, which is slightly less of a gamble than going on Craigslist. This provides a variety of options in a large range of prices, especially for those who might be on the lookout for vintage or rare models. And for lovers of auctions, this provides a relatively safe thrill.
One of the benefits of shopping on eBay is that your purchase is backed by their money back guarantee, so you get what was advertised. This covers your purchase price and original shipping; buyer beware, though, because you'll usually have to fork out your own money if it needs to be returned.
Bumper Car Purchasing Tips
There are several factors to consider when you start shopping around. Here are some hints to help make you a savvier consumer:
Decide how you plan to use the car(s). Are you looking to make a profit, or just provide some good, clean fun? This will help to determine the next point.
Determine your optimal price. How much are you willing to spend? Try to compare like items among at least three different companies to get the best deal. Don't forget to add in tax, shipping and other costs.
Do you want a ceiling grid, ground (or floor) grid, or battery-operated bumper car? And if you also need to install a venue in which to operate your cars, this can make your overall investment more costly.
What is the condition of the car? If you want a fixer-upper instead of something brand new, you're most likely going to pay less - but you might also invest a lot more hours of labor getting it to work.
What are the materials used to make the car? Steel frames will be the most durable, and, of course, there should be the bumpers made from rubber. If bumpers are inflatable, make sure they're made from PVC.
If you're getting a battery-operated car, try to get those with rechargeable batteries to make them more cost-effective in the long run.
If you're concerned about the safety of the riders, purchasing a bumper car that has a digital remote gives you control over the action should anything go amiss.
Take Some Time to Research
Hunting for bumper cars may seem like a challenge, but with a little know-how, the process is far less intimidating. If you're willing to do some research and have the patience to ferret out the best deals, you might discover a new source of entertainment - and make your house the coolest hangout on the block in the process.