Aquatica Water Park Gallery
Aquatica Beach
Aquatica water park in Orlando, Florida, is one of the most innovative water parks in the world. In addition to water slides and other familiar attractions, Aquatica guests will enjoy interacting with the marine animals that Sea World is famous for, including dolphins, tropical fish, turtles, and birds, making a visit to Aquatica an immersive experience sure to be remembered.
Aquatica's beach is one of its most impressive features, with 80,000 square feet of sand for relaxing and sunbathing. The beach, however, is only the start of this fantastic water park.
Dolphin Plunge
The Dolphin Plunge water slide is one of the park's most popular attractions. This body slide takes riders through smooth curves to the final runout that passes through the Commerson's dolphin habitat, making it truly seem as though you are swimming with these remarkable creatures.
Taumata Racer
These 300-foot mat racing slides feature a 360 degree turn before the final race to the finish. With eight lanes available, this is a great water slide for riding with groups and racing your friends.
Wave Pool
A wave pool is a prominent feature of any water park, and Aquatica's wave pool is set in a lovely tropical lagoon bordered by sandy beach. Uncertain swimmers and young guests should stay in the shallow entry to the pool, while more adventurous swimmers can tackle its waves.
Sulcata Tortoise
Aquatica water park guests will have the opportunity to interact with animals not only in the water, but also on land. The Sulcata tortoise is a popular visitor, and trained presenters are on hand to answer questions and offer information about the park's different inhabitants.
Walkabout Waters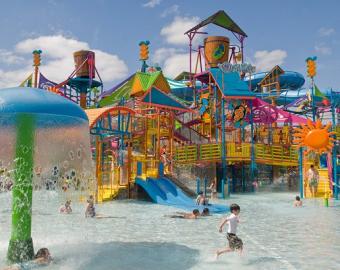 The Walkabout Waters fun fortress is 15,000 square feet of aquatastic splashes, including a variety of slides, bridges, fountains, cannons, sprinklers, waterfalls, and immense tipping buckets. There's no way to stay dry when you're walking here!
Slide With Dolphins
Dolphin Plunge ends with a clear runout slide through the Commerson's dolphin lagoon. These curious black and white dolphins are always glad to have visitors race through their pool, and riding the body slide offers a unique and intimate view of the dolphins.
Tropical Setting
More than 300 species of tropical plants, flowers, and bushes have been used to give Aquatica unique and luxurious landscaping, making it a beautiful park to enjoy even if you don't plan to get too wet.
Macaw Encounter
Tropical birds are on display at Aquatica, and guests may be able to get up close and personal with the beautiful birds and their handlers. Experienced trainers can also answer questions about the birds and their conservation.
Fish Grotto
Lazy rivers are a great way to relax at any water park, and Aquatica's river passes through an amazing tropical fish lagoon with dozens of species of colorful fish visible through the clear tunnel. Your eyes certainly won't be lazy on this river ride.
Tassie's Twisters
This funnel tube slide can accommodate either single or double inner tubes and offers a cooling splashdown at Loggerhead Lane. Hold on tight as you twist around the funnel before your final splash!
Dining
It's easy to work up an appetite at Aquatica, and fortunately there are many dining options available. Classic amusement park food such as hot dogs, pizza, and ice cream is available, or try the barbeque meals for a great beach treat. Salads and other selections are also available.
Sea World
If just visiting Aquatica isn't enough, stop by Sea World Orlando for even more splashtastic fun on the Journey to Atlantis water coaster, the Kraken roller coaster, and other fun rides, or check out the beautiful exhibits of flamingos, Atlantic bottlenose dolphins, Florida manatees, orcas, and other whales, penguins, seals, sharks, and fish.
Interested in other water park pictures? Check out these
Water Slide Pictures
and
Pictures of Indoor Water Parks
for more splashtastic fun!