Busch Gardens Tampa Pictures
Jungala Tigers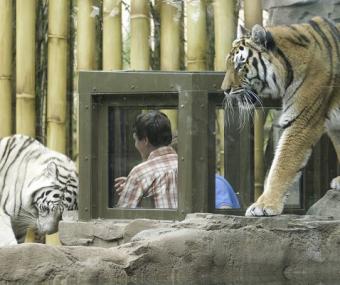 A visit to Busch Gardens in Tampa, also known as Busch Gardens Africa, is a walk on the wild side. Whether you are interested in exotic animal encounters or amazing thrill rides, this theme park has something for everyone.
Jungala is one of the park's newest attractions. This multi-tiered habitat with subterranean caves and pop up domes brings guests face to face with Bengal tigers for an unforgettable experience, only one of many the park offers.
SheiKra
SheiKra is one of the park's most thrilling rides. This floorless dive coaster drops guests down a 90 degree descent and into a half mile of twisted track, reaching speeds up to 70 miles per hour. The specially designed tiered seating gives every rider a front row perspective for an amazing thrill.
KaTonga
Amazing shows are just as much a part of Busch Gardens Tampa as the animals and rides. KaTonga: Musical Tales From the Jungle is a spectacularly designed show that explores African animal folklore through dance, music, puppetry, colorful costumes, and more.
Lory Landing
Busch Gardens Africa isn't just a zoo and a theme park; guests actually have many different opportunities to interact with the park's animals. One of the most popular is Lory Landing, a free flight aviary with dozens of colorful birds that guests can feed with a cup of sweet nectar.
Rhino Rally
For an up close view of some of the park's larger residents, guests can try out Rhino Rally, an off road safari adventure that leads through habitats for different African animals and ends with a surprising and splashy finish.
Montu
Montu is one of the park's older roller coasters - it was built in 1996 - but it still thrills millions of riders annually with its seven inversions and top speed of 60 miles per hour. The inverted roller coaster design has a ski lift feel and lets guests literally kick the sky as they ride.
Gorillas
Busch Gardens Africa is home to several endangered western lowland gorillas in the Myombe Reserve habitat. Bolingo, a young gorilla frequently found near his mother, is one of the habitat's most popular residents.
Behind the Scenes
Guests who can't get enough animal encounters can participate in one of the park's behind the scenes tours, such as the Serengeti Safari Tour that explores the 65 acre Serengeti Plain habitat. Under the guidance of one of the park's expert zookeepers, guests on this tour have the opportunity to hand feed giraffes, antelope, and birds.
Note: Extra charges apply for specialized tours.
Kumba
Built in 1993, the seven inversion Kumba steel roller coaster is still one of the park's most popular with its amazing loops and powerful speed. A terrain coaster, Kumba hugs the land throughout much of its track, adding even more adrenaline to the speedy course. Kumba means "roar" in the African Congo language, and this coaster's distinctive roar can be heard throughout the Congo section of the park.
More Animals
In addition to the tigers and gorillas that are among the most popular animals at the park, Busch Gardens Africa is also home to many other species. Hippopotamuses, zebras, elephants, antelope, giant tortoises, alligators, and numerous species of birds all call this theme park home.
Congo River Rapids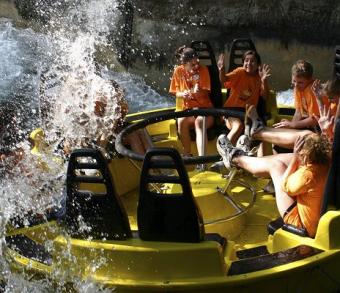 On a hot Florida summer day, there is no better way to cool off at Busch Gardens than with a trip through Congo River Rapids. This white water rafting ride features geysers, waterfalls, and sudden dips sure to get everyone soaked.
Tree Top Trails
Located in the Jungala section of the park, Tree Top Trails is a three story climbing structure suitable for the whole family with nets, bridges, and tubes that simulate the diversity and adventure of the African jungle canopy.
Entertainment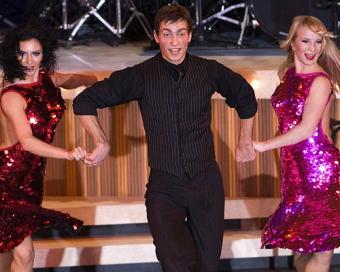 As if the animals and rides weren't entertaining enough, Busch Gardens in Tampa is also home to world class shows such as Let's Dance, a revue show featuring international dances and skilled performances. The mambo, rumba, jive, swing, and tango are just a few of the high energy dances demonstrated during this lively show.
Wild Surge
Located in the Jungala section of the park, Wild Surge is a launch tower that propels riders out of a mountain crater and above a crashing waterfall for stupendous views of the park.
Dining
With so much to see and do, guests at Busch Gardens Africa are sure to work up an appetite. Visit the Zambia Smokehouse for barbeque ribs or chicken, or try some of the many other menu items available throughout the park. Salads, pizza, turkey legs, spaghetti, grilled salmon, cotton candy, and many other appetizing treats are available.
Want to see more Florida theme parks? Check out Sea World Florida Photos and quatica Water Park .