Busch Gardens Williamsburg Pictures
European Fun
Looking at different Busch Gardens Williamsburg pictures will quickly show anyone planning a theme park getaway to this Virginia park that there are many fun activities and attractions to try. The park's European flair and theming is immediately evident when you see the Festhaus in the German section, but as you go through the park you will also visit Italy, France, Ireland, England, and other European nations in fun and festive ways.
Griffon
Built in 2007, the Griffon roller coaster is a floorless dive roller coaster design. It is one of the park's most popular thrill rides, with its maximum height of higher than 200 feet and the 75 miles per hour top speed that races riders through two inversions.
Water Country USA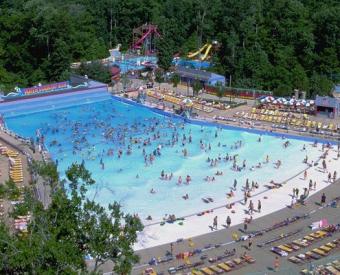 Adjacent to Busch Gardens Europe is Water Country USA, a large water park that includes Surfer's Bay, the largest wave pool in Virginia. Waves get as high as four feet and visiting this aquatastic attraction is a great way to cool off on a summer day.
Note: Water Country USA admission is not included with general Busch Gardens Europe admission. Combination tickets are available.
Sesame Street Fun
The Sesame Street Forest of Fun is a 65,000 square foot family friendly play area that includes both wet and dry playgrounds, numerous kiddie rides, and photography studios and photo spots where youngsters can have their pictures taken with their favorite Sesame Street friends.
Malibu Pipeline
Park guests who opt to visit Water Country USA as well as Busch Gardens Europe will enjoy the dark enclosed tube slide, Malibu Pipeline. If the dips and curves of this waterslide aren't enough excitement, the waterfall finish is sure to be splashtastic fun.
Loch Ness Monster
The Loch Ness Monster was built in 1978 and is Busch Gardens Europe's oldest operating roller coaster. The double interlocking loop is a signature sight at the park, and the ride continues to thrill guests at speeds up to 60 miles per hour each year.
Grover's Alpine Express
Young coaster enthusiasts will enjoy the family coaster, Grover's Alpine Express, in the Sesame Street Forest of Fun area of the park. This coaster is smooth and suitable for even timid riders, and there are also other nearby child-sized rides to enjoy.
Gardens
Busch Gardens Europe has been voted as the "Most Beautiful Theme Park" in the world numerous times for its meticulously manicured gardens and lush flowerbeds. Statues and fountains are also scattered throughout the park, all coordinated with the appropriate European theme for each section.
Alpengeist
It's name means "Ghost of the Alps" in German and Alpengeist can certainly be a scary roller coaster for inexperienced riders. This inverted coaster has a 170 foot drop, one of the tallest of any inverted coaster, and its six inversions are sure to be exciting for every rider.
Land of the Dragons
Young park visitors will love the fantastical Land of the Dragons section with its three story tree house, splash play area, and children's rides. Different themed shows for younger guests are also scheduled in this area of the park.
Winter Wonderland
While Busch Gardens Europe is only open seasonally, the park does host a special Christmas Town event annually with limited rides and themed holiday shows. More than one million lights are used to decorate the park, and guests can walk beneath a canopy of stars in different areas as they experience the holiday magic.
Habitat Garden
All the Busch theme parks, including the park in Williamsburg, are committed to habitat conservation and education. The Habitat Garden in Virginia demonstrates a range of easy options anyone can do in their backyard to promote wildlife conservation and diversity, such as adding a water feature, birdfeeders, and native plants to the landscape.
Water Wonderland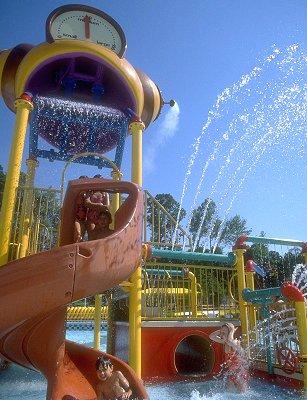 Young guests who visit Water Country USA will enjoy the sci-fi themed Water Wonderland play area with its slides, jets, and geysers. This is a great way to cool off on a hot summer day after visiting the theme park.
Entertainment
Like all theme parks, Busch Gardens Europe offers a wide range of shows for guests to enjoy. In the Festhaus, for example, guests can celebrate Oktoberfest every day with spirited singers and dancers. Other themed shows are available throughout the park.
Conservation
Busch Gardens Williamsburg is home to Jack Hanna's Wild Reserve, where different animals – including wolves for the wolf ambassador program – give visitors a personal glimpse of the importance of wildlife conservation and preservation, a message you will find at all the Busch theme parks.
Interested in Busch Gardens Africa? These pictures of
Busch Gardens Tampa
will show you just how much this sister park in Florida has to offer!