Welcome to Hersheypark
If you're planning a theme park getaway to Hersheypark, it is important to research the different rides the park offers to be certain there are fun attractions everyone in the family will enjoy. When entering the park, a statue of Milton Hershey in a beautiful fountain greets guests and sets the tone for a fun-filled visit.
Ferris Wheel
More Details"
The Ferris Wheel at Hersheypark stands nearly 100 feet tall and offers guests a fantastic view of the park. Centered in the park's Midway America section, this ride is a classic icon of traditional amusement park rides.
Fahrenheit
Built in 2008, the steel roller coaster Fahrenheit is one of the park's most popular rides. It stands more than 120 feet tall and offers six thrilling inversions with speeds up to 58 miles per hour, making it a fantastic thrill ride for adventurous guests to try.
Wildcat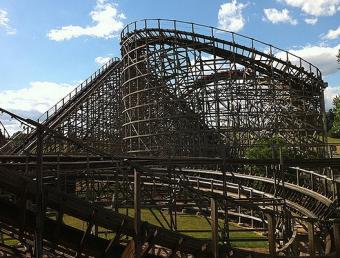 More Details"
The Wildcat roller coaster is a wooden wonder that opened at Hersheypark in 1996, named after a previously demolished wooden coaster. The modern Wildcat is 3,186 feet long and reaches speeds up to 50 miles per hour, bringing riders more than 3.5 times the force of gravity as part of the thrill.
Storm Runner
Storm Runner is one of the park's most popular roller coasters, with its hydraulic launch, 90 degree angles, and 75 miles per hour top speed. The launch is one of the most exciting parts of the ride, and the coaster goes from a standstill to its top speed in just two amazing seconds.
Flying Falcon
More Details"
A classic tower ride, the Flying Falcon was built in 1990 and carries 28 cars with two riders each up the tower as each set of cars spins. This can be a dizzying ride, but it is also a fun way to get an aerial view of the park.
Comet
The oldest roller coaster at Hersheypark is the wooden Comet with its classic white structure and out-and-back track layout. Built in 1946, the ride is still popular and thrills thousands of riders daily with its top speed of 50 miles per hour.
Great Bear
The inverted Great Bear is a high tech thrill ride and one of Hersheypark's most amazing roller coasters. Built in 1998, the coaster's maximum height is 90 feet but because of the uneven terrain, its longest drop is 124 feet. The ride includes four inversions and covers them all in less than three minutes with a top speed of 58 miles per hour.
East Coast Waterworks
More Details"
Park guests who want to chill out on a hot summer day can take advantage of the East Coast Waterworks in the park's Boardwalk area where the water rides are clustered. With seven water slides, 600 interactive water toys including fountains, sprays, and waterfalls, and more than 54,000 gallons of aquatastic fun, East Coaster Waterworks is great for all ages.
Kissing Tower
More Details"
For a gentle ride that offers fantastic overviews of Hersheypark and the surrounding area, the Kissing Tower can't be beat. The comfortable car rises 250 feet in the air and slowly spins through a clockwise rotation, giving riders unsurpassed views through Hershey's Kisses shaped windows.
Ride Safety
More Details"
Ride safety is important on all Hershey park rides, and guests can see if they measure up next to height markers themed like popular Hershey treats.
Meet Hershey
A day at Hersheypark wouldn't be complete without meeting your favorite treats, and Hershey characters regularly roam the park for hugs, photos, and greeting opportunities.
Need more information about Hersheypark? Check out…