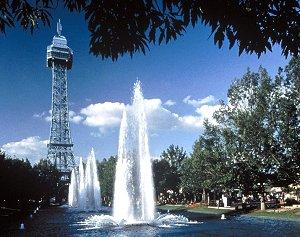 King's Dominion amusement park in Doswell, Virginia, is just 23 miles north of Richmond. With a wide range of rides and attractions, this Cedar Fair park is a popular theme park getaway for millions of guests each summer.
About King's Dominion
When it first opened in 1975, this park was small and unassuming, but it would soon grow to great proportions with amazing rides and attractions spanning 400 acres. Though it was owned by Paramount from 1993 to 2006, today the park is part of the Cedar Fair company and offers a diverse a range of rides, shows, and fun attractions for the whole family to enjoy.
Visiting the Park
Seasonal operating hours can vary, but King's Dominion is generally open weekends in late April and early May and seven days a week throughout the summer. During September and October, the park is again open only weekends.
Rides
Theme park rides are the backbone of any amusement park, and this southern park's rides have a hefty dose of thrill and charm. Popular rides include:
Dominator: Relocated from Geauga Lake after that park was permanently closed, this 4,210 foot long coaster is the longest floorless coaster in the world. Riders speed through five inversions at speeds up to 65 miles per hour, all while their feet dangle over the track.
Volcano, The Blast Coaster: A unique launched coaster design, Volcano propels riders straight up a 155-foot vertical launch from the mouth of a volcano and into three dizzying inversions.
Berserker: The classic swinging pirate ship is a common theme park ride, but this version goes berserk as it does a complete 360-degree loop.
Flight of Fear: Since it opened in 1996, this indoor launched roller coaster has been amazing riders with its four inversions buried in a twisted maze of track.
Rebel Yell: A classic twin wooden roller coaster, Rebel Yell is the park's oldest coaster and has been a fun attraction since 1975 with its 85 foot hill and 56 miles per hour top speed.
In addition to these outstanding thrill rides, the park is also home to a wide range of classic amusement park rides including a wave swinger, carousel, bumper cars, log flume ride, and children's play areas.
Entertainment
Cedar Fair parks are well known for their varied entertainment, and King's Dominion offers live music, revue shows, local bands, and special concerts. Fireworks displays are also scheduled throughout the summer, and guests interested in a scarier visit can enjoy the annual Halloween Haunt event at the end of each season when ghouls and spooks abound throughout the park and different attractions and haunted houses are open.
Food
With so many rides to enjoy and shows to see, park guests will need to refuel in order to keep up their energy. Dining options include both fast service stands and leisurely restaurants with menus ranging from lasagna, fried shrimp, and pizza to deli sandwiches, barbeque meals, and burgers. Popular chains such as Boardwalk Fries and Chick-Fil-A are available, and treats such as fresh lemonade, funnel cakes, and ice cream are popular summer fare.
WaterWorks
Included with admission to the park is the 20-acre WaterWorks water park. Guests can rent cabanas for daily use and attractions include two wave pools, a lazy river, the Zoom Flume family waterslide, the aptly named Tornado funnel slide, and the Surf City Splash House with more than 50 fountains, cannons, and other water features for kids to enjoy. Body and speed slides as well as other aquatastic attractions are also available.
Note: Proper swim attire must be worn on all WaterWorks attractions. WaterWorks hours and operating dates may vary from the amusement park.
Tickets
Admission tickets for the park are $56 for adults and $32 for children and senior citizens. A variety of discounts and deals are available, including group rates, online discounts, and advance purchase discounts. Season passes start at $60 per person depending on the type of pass and when it is purchased.
Contact Information
For more information, including to request brochures or operating calendars, prospective visitors can call (804) 876-5000, visit KingsDominion.com, or write:
King's Dominion
16000 Theme Park Way P.O. Box 2000 Doswell, VA 23004