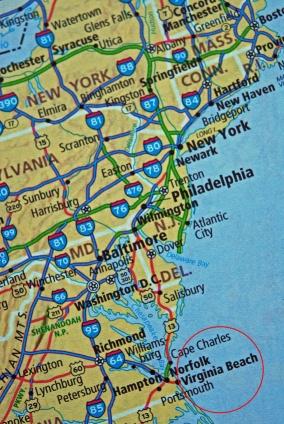 Ocean Breeze Waterpark has long been part of summer fun in Virginia Beach. This local favorite has something for everyone, and you can easily make it part of your next family adventure.
About Ocean Breeze Waterpark
Ocean Breeze has the distinct privilege of being the only waterpark in Virginia Beach. With a fairly large population and plenty of annual visitors to its city during the summer months, Ocean Breeze has been a family favorite for generations. Open Memorial Day through Labor Day, it is a mere 2 miles from the ocean.
At Ocean Breeze you will have the chance to play on 16 different waterslides, a wave pool featuring one million gallons of refreshing "ocean" water, and a creative children's area perfect for little ones looking for the ultimate in fun and refreshment. For families or friends looking for a more relaxing and personal experience, private cabanas are available for rent, and there is also a gift shop to peruse.
The park is also perfect for families on a tight budget, as they offer free parking and plenty of discount coupons throughout the season.
Attractions
Virginia Beach knows how to have a good time with plenty of thrills and watery spills. Largo Loop is a fun and twisting tube slide perfect for one or two riders. With a fun Caribbean theme, both kids and adults will enjoy the colors and creativity on this in-demand ride. Jungle Falls is perfect for those looking for a bit more of a thrill. Simulating a white water rafting ride, this will guarantee you an exhilarating adrenaline rush. Coconut Drops is another great choice, shooting you quickly into a deep swimming pool, giving you the chance to feel what it's like to be a waterfall rushing down.
Runaway Bay is one of the most popular wave pools in all of Virginia, featuring eight different wave patterns. Those looking for a break from the slides will love its simulated ocean waves, while thrill seekers will get a kick out of the six foot high breakers. You can ride a tube in the wave pool, or brave it with nothing but your swimsuit between you and the crazy waters.
Lastly, check out the high speed thrill slides Walk the Plank and Pirates Plummet.
Little Splashers
Children will find amusements scaled down to their size at Buccaneer Bay. Here they can explore a pirate ship and imagine themselves navigating through exotic seas. Parents and older siblings can join in on the fun Buccaneer Bay has to offer, however all parts of the area are specially suited for those under 48 inches.
Junior Lifeguard Camp
Those who play in Ocean Breeze's waters sometimes grow up to earn a paycheck. Inspiration for future waterpark employment is found at the park's Junior Lifeguard Camp for those aged 10-15. Kids will learn first aid, CPR, and water safety, all through plenty of team building activities. Those with multiple participating children and season pass holders receive a special discount. Children receive goodies that will make them feel like an official lifeguard, such as a special t-shirt and whistle, making Ocean Breeze the perfect place to spend summer learning important, life saving skills.
Ocean Breeze Waterpark is owned and operated by a well-respected corporation and is part of the International Association of Amusement Parks and Attractions. Guaranteed to provide the utmost in fun and safety, Ocean Breeze has long been cherished by local families as well as tourists looking for a little aquatic adventure.
---
Find out more about Ocean Breeze by visiting their official website or showing up in person at the ticket booth, ready and waiting for the time of your life!