Raging Waters is a group of three water parks with locations in Sacramento, San Jose, and San Dimas. They are the largest water theme parks in California, each with a different set of attractions for all ages to enjoy.
Locations
Each park location has a unique theme park map and layout as well as a different set of rides for guests to enjoy. Some of the parks were purchased from other companies and altered to be part of the franchise, further emphasizing the different feel each water park has.
Sacramento
This park first opened in 1986 under the name WaterWorld USA. When the company that owned WaterWorld was purchased by Six Flags Theme Parks, it was renamed Six Flags WaterWorld. In 2006, Six Flags decided not to renew their lease on the park, upon which it was converted to its current theme.
Attractions at the Sacramento location include the Honolulu Half Pipe slide, the Great White water luge slide, the Hammerhead enclosed slide, dual speed racing slides, a lazy river, volleyball court, and the outrageous Splashdown deep water drop slides.
San Dimas
The San Dimas Raging Waters is the largest water park in California. It was used as a set in the film "Norbit", and actors wore uniforms clearly meant to represent the current San Dimas water park uniform. The San Dimas location features the Wave Cove, a million gallon pool with waves as high as three feet, as well as a Flowrider surfing simulator, a bowl slide, vertical drop racing slides, mat flume slides, a lily pad walk, and several multi-rider slides. It is one of the oldest water park attractions in California.
San Jose
The San Jose location is currently the largest water park in the Bay Area. It boasts thirty slides, as well as an interactive water castle called the Wacky Water Works. Pirates Cove also has interactive play areas that feature cannons as well as nets to climb. For adults, Blue Thunder and White Lightning are both fast, twisted rides.
Water Theme Park Dress Code
Each park has a strict dress code to protect the guests. Cotton clothing cannot be worn in the water or on any of the rides, as well as clothing with metal embellishments. Overly provocative swimsuits as well as thong suits are also banned, and the park recommends a traditional, conservative bathing suit instead. Potentially offensive tattoos must be covered and profane or offensive clothing cannot be worn. Clothing that might have gang connotations, such as modified baseball caps, is also banned; for a full list of unacceptable clothing you should contact the park.
Visiting Raging Waters
Visiting a water park in the middle of the summer can be a frustrating experience without some planning and foresight. Luckily, most reservations and ticket purchases can be made far in advance and online.
Lodging
Although this water park does not have official hotels, they do recommend hotels in the area near the park on their website. Check with the hotel for special cross promotional deals that could get you a discount on both your tickets and your room. Also ask about special perks that may be available, such as a free shuttle to the water park.
Tickets
Tickets for are $28 for visitors over 48" high. Seniors and children that are shorter than 48" receive discounts. You can also receive substantial discounts if you purchase your tickets online instead of at the water park. Season passes that allow you to visit all three parks any time you wish are also available.
Contact Information
For more information on specific attractions and amenities, contact each individual water park directly.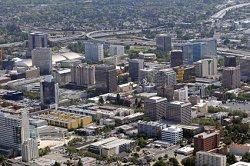 Raging Waters, Sacramento
Official Website
1600 Exposition Blvd.
Sacramento, CA 95815
Tel. (916) 924-3747


Raging Waters, San Jose
Official Website
2333 South White Road
San Jose, CA 95148
Tel. (408) 238-9900


Raging Waters, San Dimas
Official Website
111 Raging Waters Drive
San Dimas, CA 91773
Tel. (909) 802-2200
---
These three water parks offer some of the most splashtastic attractions in California and entertain millions of guests each year. Whether you visit one park or all three, you're sure to enjoy all the aquatic attractions they offer.