Sea World San Antonio Pictures
San Antonio
If you're visiting Texas, Sea World San Antonio is a great family destination to try. With a wide range of thrilling rides, animal attractions, entertaining shows, wildlife interactions, and more, there is something that every guest can enjoy at this popular theme park.
Dolphins
The Atlantic bottlenose dolphins are some of the most popular residents at Sea World San Antonio, and guests can interact with them at a special touch pool where the dolphins are free to play. Regular feeding times with small fish treats are sure to bring the dolphins near for a close and memorable encounter.
Believe
The orcas, or killer whales, are big stars at Sea World, and the exquisite "Believe" show features these whales and their trainers demonstrating the deep bond they share through a range of interactions, including unique tricks and daring exploits. A customized soundtrack and high tech effects make this show even more amazing.
Great White Coaster
While many guests enjoy getting up close with animals, visitors who want more thrills can try out the park's roller coasters. The inverted Great White coaster was the first ever built at any Sea World park, and today it still thrills riders through five inversions at speeds up to 50 miles per hour.
Penguin Encounter
Guests enter another world when they visit Penguin Encounter, a specialized habitat that is home to more than 100 penguins, including rockhopper, king, and gentoo penguins. The 120 foot long moving walkway keeps congestion minimal while letting everyone see these amazing Antarctic birds.
Splash Attack
There is no better way to keep cool on a hot Texas day than by visiting the Lost Lagoon water park. The Splash Attack fun zone is one of the water park's most popular attractions with its three stories of geysers, fountains, and other aquatastic fun.
Daring Shows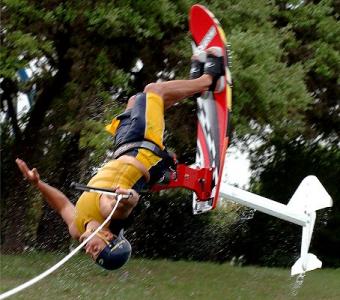 During the summer months, the water ski stadium is home to daredevil skiing shows that include energetic dancing and heart-pounding music. Hours and dates of these seasonal shows can vary, however, and weather conditions may also impact whether or not a show is performed.
Wildlife Conservation
Not only is Sea World San Antonio home to different types of marine life, but many other animals call the park home, including birds and mammals. Guests can learn about the park's conservation efforts and even interact with animals such as lemurs as they visit the park.
Flamingos
Located between the Shamu Theater and the Nautilus Amphitheater, Flamingo Cove is a colorful locale. Here, guests can enjoy not only the bright beauty of the flamingos, but also various tropical plants and flowers that make up this exotic habitat.
Funny Friends
For a lighthearted break, take in one of the park's most popular shows, "The Cannery Row Caper" starring Clyde and Seamore. This daring duo discovers all the fish being mysteriously eaten from the cannery, and they set out to solve this mystery with plenty of fun along the way.
Adventure Camps
Younger guests can enjoy a unique behind-the-scenes experience as part of one of the Adventure Camps. Along with experienced trainers, the "campers" will interact directly with different animals at the park while learning about them in a unique and fun way.
Sidewinders
The Sidewinders multi-flume slide is part of the Lost Lagoon water park. Other attractions at the water park include a wave pool, activity pool for younger guests, lazy river, rental cabanas, and many other adventurous slides. Lost Lagoon admission is included with regular park admission, but the water park is not open year round.
Beluga Whales
Beluga whales are comical, charming creatures, and now San Antonio guests have the opportunity to participate in beluga interaction programs. These programs include a classroom learning environment as well as a live in-water interaction with the park's resident beluga whales. Participating guests must be at least 7 years old and additional fees apply.
Holiday Celebrations
Sea World San Antonio is open year round (though only weekends during less busy months) and offers a variety of seasonal decorations and entertainment, including special shows such as Halloween haunting fun and "Clyde and Seamore's Christmas Countdown" to make a holiday visit to this theme park even more exciting.
Dining Diversity
After enjoying different rides, shows, and attractions, guests can work up quite an appetite. Sea World San Antonio offers many dining options, from full service restaurants to casual eateries. Pizza, seafood, barbeque, chicken strips, quarter pound hot dogs, fajitas, nachos, frosted lemonade, and many other types of amusement park food are available.
Interested in what the other Sea World parks have to offer? Check out even more pictures: