Visiting Six Flags Over Georgia
Six Flags Over Georgia is a great place to spend the day with family and friends. Open since 1967, this amusement park features numerous roller coasters and a myriad of other thrilling adventures. It is located just outside of Atlanta, in Austell, Georgia.
Six Flags Over Georgia Rides
Six Flags Over Georgia has many options to choose from, including thrilling roller coasters, rides designed for children, and ones the whole family can enjoy. The oldest roller coaster dates back to 1967 - the Dahlonega Mine Train located in the Peachtree Square Section of the park. The park has over 40 rides altogether, including thrill rides as well as family-oriented and kid-friendly choices!
Thrill Rides
Popular thrill rides at Six Flags Over Georgia include:
Batman: The Ride: This is a copy of the inverted roller coaster found at other theme parks. The ride is 2,700 feet long and reaches a maximum speed of 50 miles per hour. The real adrenaline rush comes from not seeing where you are going since you're riding backwards.
Superman: Ultimate Flight: This ride tries to simulate what it might feel like to fly through the air, as if you were Superman. It features a 101 foot drop and a top speed of 51 miles per hour.
Georgia Cyclone: This is a wooden roller coaster that is similar to the one on Coney Island. The ride is rough but worth experiencing. Minimum height to ride is 48 inches.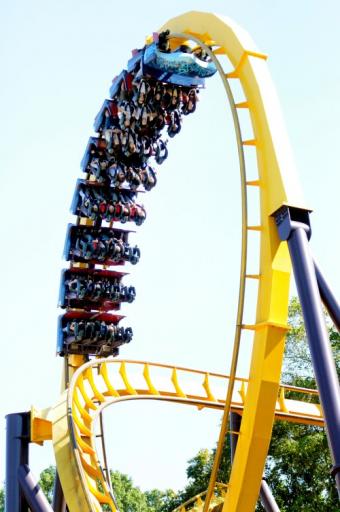 Goliath: This is one of the newer rides in the park. It is a huge steel coaster, featuring a 4,400 foot track and a maximum speed of 67 miles per hour with a drop of 175 feet. It also features six zero-gravity camelback hills. This one is a must-ride for coaster fans. The minimum height to ride is 54 inches.
Georgia Scorcher: This stand-up coaster opened in 1999. The track is 2,768 feet long with a maximum drop of 107 feet and a top speed of 54 miles per hour. The minimum height to ride is 54 inches.
Skyscreamer: This ride starts off with you sitting in an air seat. Then, it starts to spin you around until you ride up the 24-story tower going a maximum speed of 40 miles per hour, rotating in a 98- foot diameter circle. It's a dizzying experience for any thrill seeker. The minimum to ride is height 44 inches with an adult.
New attractions scheduled to open in May 2015 are The Joker CHAOS Coaster and Harley Quinn Spinsanity in the Gotham City area. They have also developed an entirely new section called Hurricane Harbor.
Family-Oriented Rides
There are also options for thrill-seekers who need a change of pace and those who prefer tamer rides. Great choices include:
Thunder River: This is one of the largest water rides in the entire Six Flags family of parks. Your 12-person raft will go into two tunnels and finish by going through a waterfall. Children must be at least 36 inches tall to ride and you can definitely expect to get wet.
Monster Mansion: This is a boat ride through a 25,000 square foot mansion for the scariest of monsters, designed for every imagination and personality.
Rides for Kids
Youngsters will enjoy a great selection of rides, including:
Hanson Cars: Let your child get behind the wheel of these 4-person cars for age-appropriate fun and excitement.
Dodge City Bumper Cars: These cars are not known for their power, but they make up for it in volume. Approximately 50 cars drive around on the track running into each other.
Shows
Throughout the season there are concerts and other special events. Regular shows include:
Wild West Comedy Gunfight: This show features Bad Bob who has a humorous shootout with the sheriff.
Seasonal Shows: Look for new entertainment to be added like the BMX Stunt Show that took place over Spring Break and more.
Dining Options
Places to Eat
You can find large and small food vendors located throughout the park. A wide array of cuisine is available, including Asian, Mexican, Italian, American, and more. Chains like Panda Express, Cold Stone Creamery, and Johnny Rockets have locations here. Other notable restaurants at Six Flags Over Georgia include:
Big Mo's On the Square: Serving chicken tenders, turkey burgers, black bean burgers, turkey legs and more.
Crazy Horse Deli: Try the Cuban sandwich here for something a little different.
Daddy O's: Pulled pork BBQ is the specialty here.
Totally Kickin' Chicken: It's all about chicken tenders here - regular or spicy Buffalo version available.
To plan your dining ahead, Six Flags offers online meal deals available for purchase prior to your visit. There are single meals, family meal options, and drink packages as well. USA Today includes the online meal deals as a way to help plan a budget-conscious trip to Six Flags Over Georgia.
Dining Passes
If you're contemplating season passes, a number of dining passes are available. These include:
Deluxe Dining Pass: Get lunch and dinner each visit, along with a snack.
Dining Pass: Gives you lunch and dinner on each visit to Six Flags Over Georgia
Combo Deluxe Dining Pass: Get lunch, dinner, and a snack for both Six Flags Over Georgia and sister-park Six Flags White Water.
Combo Dining Pass: Lunch and dinner are included for both Six Flags Over Georgia and White Water.
The benefit to the dining passes is not having to expend a lot of upfront costs and do low monthly payments with regular auto billing. The Six Flags Over Georgia website has a great breakdown of all the dining passes available so you can decide which is best for your family. If you plan to visit at least four times during the season, these can be a tremendous value. Most of the park restaurants are included, except the chains.
Dining Tips
In all cases with amusement parks, it is always recommended to go to lunch at non-traditional hours. Aim for before or just at 11 a.m., or just after 2 p.m. to avoid the lunchtime rush hour. And of course don't plan to go on a super nerve racking ride just after a big meal.
There are dining areas located at all the sections of the park with the exception of Lickskillet.
There are food service booths all over the park. Some vary from basic snacks like, sodas, ice cream and popcorn to full sit down meals.
Visitor reviews on sites like Yelp say the prices are high and the best options for meal sis Johnny Rockets and Daddy O's.
Covered areas for dining are limited so be sure to scope out the food court area to decide where you will eat.
Dining Outside the Park
If you're looking to explore restaurants outside of the theme park, check out Local Eats, which has a number of rated restaurants in the area. Sort by Editor's Picks, Best of Winners, cuisine type, and/or distance from the park.
Park Admission
The park closes for the winter and opens on weekends in early spring, gradually increasing opening days until it's in full swing during the summertime. If you want to avoid the huge crowds and enjoy as many of the rides as possible, aim for going to the park mid-week and even better in the off season, which is just outside of the summer months. A variety of ticket options are available.
General Admission
General admission for adults is $62.99. Children less than 48" tall are charged $42.99. Kids two years old and younger get in free. Regular parking costs $20. Preferred parking is $25 and valet is $35.
Season Passes
Season passes are available for $59.99, while membership is as low as $4.99 a month. With membership, you get the same benefits as the season pass, but you pay monthly and can keep as long as you like. A season pass pays for itself if you plan to visit the park two or more times in a year.
Tips for Your Visit
There are certain tips and tricks to help you make the most out of your visit to Six Flags over Georgia. The first rule, and this is typical for most amusement parks, is to get there early. Take into account how long it takes you to get from your parking position to the entrance of the park. With that timeline in mind, plan to arrive 20 - 30 minutes before the park opens.
Getting Around the Park
Know which rides and attractions you want to visit. Review the park's website and see which attractions most interest you and your family.
Map out your attractions starting from the rear of the park, attending the most popular rides and moving towards the front. Most visitors tend to start at the front right of the park and work their way to the back.
Some Google reviews indicate handicapped parking is at a minimum, so if you need accessible parking plan to arrive even earlier. Otherwise, you may find it best to take the tram.
Another tip is to go to the water rides first to avoid the biggest crowds. Most visitors tend to go on the water rides in the afternoon when the day is hotter. This also means longer lines.
If you are travelling with family or friends, always agree on an area to meet up at particular times if you get separated.
If you are travelling with young children, it is recommended to rent a cabana and purchase a flash pass, which is a small device which alerts you prior to your ride reservation and allows to beat the long lines.

Bring along a jacket or sweatshirt in case the evenings get cool.
Making the Most of Your Visit
The park takes up 297 acres. You would not be able to participate in all the rides and see all the activities in just one day. Aim for a three-day vacation to make the most out of the experience.
The park's operating hours are typically from 10 a.m. to 8 p.m.
The closest hotel to the park is Wingate by Wyndham, Atlanta. It is only 300 yards away from the entrance.
There is a dress code in effect. Wearing comfortable shorts and a shirts are perfectly acceptable, as long as nothing is too revealing. Attire cannot display any offensive words, statements, or profanity.
Visitor experiences vary widely at Six Flags over Georgia with some of the concerns surrounding rude employees and the park beginning to show its age. TripAdvisor reviewers generally love the park, but those who rated it terrible warn visitors of unfriendly staff, expensive prices, and rides breaking down.
Contact Information
For additional information about Six Flags Over Georgia, visit the official website. You can also call the park at (770) 739-3400.