About Universal Theme Park in Orlando
Universal Theme Park in sunny Orlando, Florida has stunning rides and attractions that make every guest feel like a Hollywood star. You can share 3-D adventures with the Transformers, Spiderman and Shrek, and sing-along with Barney, the Blues Brothers, and Beetlejuice. With all the latest technology at their disposal, Universal Studios proves that the magic of movies is here to stay.
Visiting Universal Studios
This cinematic theme park occupies more than 100 acres in the heart of Orlando, Florida. While it may seem that central Florida is dominated by the Disney resort complex of parks, Universal Studios offers guests the unique experience of literally "riding" the movies they love, from classic favorites such as E.T.: The Extra Terrestrial, to modern blockbusters like Transformers.
Rides
The rides at Universal Studio's Islands of Adventure may not have loops and drops, but they use special effects in such masterful ways that guests can truly believe they are immersed in their favorite movies. Popular rides include: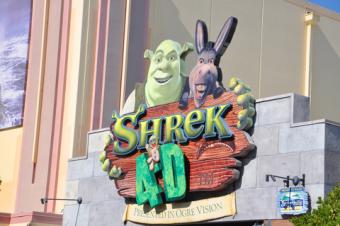 Shrek 4-D - This three dimensional movie is made into a full-scale ride by adding motion simulator seats that bring viewers along on Shrek and Princess Fiona's wacky honeymoon. Stationary seats are also available for guests who may be sensitive to abrupt motion.
Transformers 3D - In this 3D adventure, you will become a Nest recruit and ride alongside Optimus Prime and the other transformers through fights and battles between the Decepticons and the Autobots. To find out who will win, you will have to wait until the ride opens on June 20, 2013.
The Amazing Adventures of Spiderman - On this ride you will don 3D glasses and follow Spiderman as he climbs skyscrapers and chases the villains that have stolen the Statue of Liberty. The highlight of the ride is when, along with Spidey, you fall back 400 feet.
Dragon Challenge - Part of the Wizarding World of Harry Potter, this is a roller coaster with a difference. Like most roller coasters, it will zoom at great seeds through a curving, looping track. However, it will also give you a choice of two types of dragon cars. So what do you trust more? A Chinese Firetail or a Hungarian Horntail?
Hollywood Rip Ride Rockit - Riding 17 stories over Universal studios at speeds of 65 mph, Rip Ride Rockit really is the only word you can use to describe this roller coaster. Universal claims it is actually Orlando's tallest coaster. With Disney World and SeaWorld just down the road, that is some claim.
Revenge of the Mummy - This roller coaster is powered by three sets of linear induction motors that speed guests through hieroglyphic-carved tombs and past rampaging fireballs at speeds up to 40 miles per hour.
E.T. Adventure - Riders will mount their own flying bikes high above stunning scenes for this nostalgic trip with E.T. to his home world, where he will deliver a personalized greeting to every rider in his delicate, wistful way.
Men In Black: Alien Attack - More than 100 different alien species are on the rampage in this futuristic ride, and riders are armed with laser guns to help save the world by fighting back.
The Flight of the Hippogriff - This coaster is another member of the Wizarding World of Harry Potter. Perfect for younger kids, it travels at a more sedate pace than Dragon Challenge, winding past such Harry Potter iconography as the Pumpkin Patch and Hagrid's Hut.
Shows
While every ride is a show in and of itself, the Universal Theme Park also offers superb entertainment options for guests to enjoy. Throughout the park, details such as a Hollywood Walk of Fame and movie props are on display, and regular shows offer visitors a glimpse of Hollywood's secrets and excitement. Visitors can also watch horror makeup demonstrations, animal actor tricks, and musical revues with popular characters such as the Blues Brother and Beetlejuice. There are even loving tributes to Hollywood legends such as Lucille Ball.
The show that currently has people talking is 100 Years of Movie Memories. Narrated by Morgan Freeman, this 20 minute film is projected onto waterfall screens. If you have the extra money, you may also want to buy tickets to watch the increasingly popular Blue Man Group. A combination of surreal humor, music and multi media, they are currently one of the most sought after performers in the world.
For Kids
At first it may seem that this type of advanced special effects park would not appeal to youngsters, but Universal Studios offers several options just for kids in Woody Woodpecker's KidZone. There is an interactive play area with wet and dry attractions modeled after the frenetic life of Curious George, and a more vigorous play land with the popular Fievel character. Kids will also enjoy a sing-a-long show with well-loved dinosaurs Barney and Baby Bop, as well as Woody Woodpecker's Nuthouse Coaster.
The latest attraction is the Wizarding World of Harry Potter. In addition to the rides, kids can walk through a replica of Hogwart's Castle.
Dining
Movie snacks can be predictable -- popcorn, candy, nachos, and soda -- but there is nothing predictable about the food at Universal Studios. Just as the rides are more innovative and detailed than their on-screen inspiration, the food is also more decadent and delicious than cinema snacks. Treats include pizza and pasta, salads and seafood, and corned beef. There's also cheesecake, ice cream, wraps, ribs, and many international selections. Guests who plan to take all their meals in the park may want to investigate the Meal Deal wristband that entitles them to unlimited refreshments at select locations. The price is $25.99 for adults and children over ten, and $12.99 for children under nine. If you're interested in fine dining, you can book at table Lombard's Seafood Grille. For $44.99 for adults and $12.99 for children, you can eat at Lombard's and then watch 100 years of Movie Memories.
More Universal Theme Park Orlando Information
Ready to begin planning your visit? Here is some basic info you'll need.
Tickets
Standard single day admission tickets run about $123.00 for an adult and $117 for a child. Prices drop significantly for multi-day tickets. A 4-day ticket costs about $40.00 per day for adults, and about $37.00 for children. Exclusive private group rates are also available, and Florida residents can enjoy discounts on many Universal Studios ticket options.
Contact Information
For more information about the Universal Theme Park, guests can visit the official website, or call (407) 363-8000.
Location
Theme Parks & CityWalk Parking Garage
6000 Universal Boulevard
Orlando, FL 32819
Visit Soon
As you can see, Universal offers entertainment for people of all ages, and the park is always changing. Past popular attractions like Jaws, Earthquake and Rugrats have been replaced with more contemporary icons such as Harry Potter, but that's just Universal's way of keeping things fresh. Visit soon so you don't miss your favorites, and keep checking to see what's new.