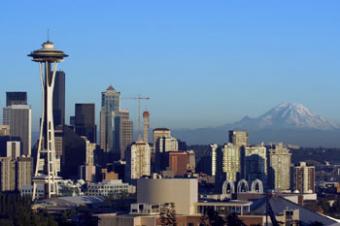 Wild Waves Washington offers plenty of rides and amusements, including Washington State's biggest roller coaster, TimberHawk. In 2007, Wild Waves celebrated its 30th anniversary.
About Wild Waves Washington
Wild Waves got its start in 1977 (when it was known as Enchanted Village) as a 12 acre children's park with just six rides, but expanded in the 1980s with the addition of a water park. At that time, the park was renamed Wild Waves and Enchanted Village. In 2000, Six Flags Inc. purchased Wild Waves, but later sold the 70 acre park in April 2007. The park then dropped the "Enchanted Village" portion of the name and is known only as Wild Waves Theme Park.
Wild Waves Attractions
Wild Waves' rides range from the tame to the, well… wild. With a variety of roller coasters, water rides and amusements, there is no shortage of fun and excitement for park visitors.
Rides
Klondike Gold Rusher: This steel roller coaster's twists and turns will have guests shrieking with delight.
TimberHawk Ride of Prey: TimberHawk is the biggest roller coaster in Washington State; don't miss this wild 75-foot-tall wooden coaster ride.
Wild Thing: Twisting loops are this roller coaster's trademark, certain to bring on at least a few screams.
TimberAxe: Experience the thrilling flight through the air before turning upside down. You won't know which way is up when you're finished!
Lumberjack Falls: Fun awaits riders on this 50 foot high splash coaster - the perfect way to cool off on a hot day.
Kid's Kingdom: As the name implies, this area is designed for the smaller visitors at Wild Waves and provides plenty of thrills for the younger crowd, including a roller coaster and Scrambler, as well as space, boat, and car rides.
Guests will also enjoy the simpler pleasures in rides such as Dodgems Bumper Cars, The Gambler spinning roulette wheel, the Giant Sack Slide, Enchanted Railway train ride, a pirate ship, Ferris wheel, and a turn-of-the century carousel. Additionally, guests of Wild Waves can test their skills in the many midway games.
Water Rides
Hook's Lagoon: This interactive tree house has plenty of wet activities, kid-sized slides and a wading pool.
Zooma Falls: This raft ride will have guests zooming down the rapids and bracing themselves for the mighty water falls.
Giant Waterslides: If you're looking for a wild ride, choose Banzai, Python Banzai, Bobsled Banzai or Rampage Banzai giant waterslides. Each offers its own exciting twists and turns.
Activity Pool: Zip cords and cannonball slides await those seeking a wild water adventure.
Konga River: Wind your way down this lazy river attraction.
Wave Pool: Ride the waves where it's always high tide.
Dining
From hot dogs and burgers to ice cream and cotton candy, there are plenty of great foods to choose from at Wild Waves. Various eateries, including a Subway restaurant and free-standing kiosks with treats, are scattered throughout the park. The park takes pride in offering trans fat free foods to guests.
Visiting Wild Waves
Wild Waves combines the thrill of amusement rides and the wet, wild fun of a water park - in one theme park!
Tickets
Ticket prices are $36 for general admission, although those planning a visit to Wild Waves can purchase tickets online for $30. Children under 48 inches tall are $30 and children two and under are free. A season pass is available for $75, providing unlimited visits to the park.
Contact Information
For more information about Wild Waves Washington, interested individuals can visit the official website at WildWaves.com, call (253) 661-8000, or write to the park at:
Wild Waves Theme Park
36201 South Enchanted Parkway
Federal Way, Washington 98003