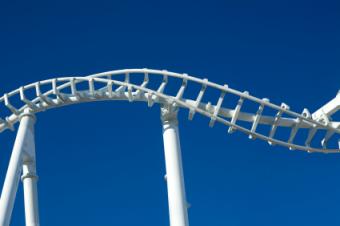 With so many hair rising rides out there, it is hard to get thrill seekers to agree on the best roller coaster park. One man's biggest coaster thrill is another man's wimpy ride, and your taste - and tolerance - of roller coasters has a lot to do with which parks land on your favorite list. However, while choosing just one best coaster park might be a challenge, there are definitely some theme parks that at least deserve to be in contention for the crown.
The Best Roller Coaster Park: The Contenders
If you love thrill rides, you can't miss a trip to one of these parks:
Cedar Point
The Cedar Point amusement park, located in Ohio on the banks of Lake Erie, has been dubbed "the roller coaster capital of the world," and for good reason. The park boasts nearly 20 roller coasters, many of them rated as "aggressive thrill." The park's Millennium Force won a Golden Ticket Award for Best Steel Coaster in 2010. Cedar Point also holds the record for most number of coasters over 200 feet in height (they have four).
Although the focus is on riders looking for the biggest scare at Cedar Point, the park does have a few tamer coaster options for the younger crowd and park goers who prefer less extreme thrills.
Disneyland/Disney World
Disney is not the first destination that comes to mind when you are looking for a thrill coaster experience, but that doesn't mean that they don't hold their own when it comes to the rides. There are thrills to be had - think Space Mountain - but there's also plenty of family friendly coaster fun on offer at both the Florida and California parks. If you're more interested in having a large selection of roller coasters that the whole family can experience together, you can hardly do better than Disney.
Busch Gardens
At both their Tampa and Williamsburg parks, Busch Gardens brings the drama for coaster lovers. From inverted coasters like Montu at Tampa, to huge hills on the Loch Ness Monster in Williamsburg and the floor less, diving Sheikra at Tampa, Busch Gardens boasts rides that might make the palms of even the most seasoned roller coaster riders a little sweaty.
Alton Towers
Alton Towers is Europe's most visited theme park, not least because of the amazing selection of coasters on offer. Located in Staffordshire, England, the park is known for its record breaking rides. It is home to Nemesis, the first inverted roller coaster in Europe, Oblivion, the first vertical drop coaster in the world, Air, the first flying roller coaster created by famed engineers Bolliger and Mabillard (B&M), Th13rteen, the first free fall vertical drop coaster in the world and a launched roller coaster named Rita, which reaches speeds of 96 miles per hour in 2.2 seconds.
When not enjoying the scares on the dips and dives of Alton Towers' coasters, park goers get to explore the lands of the gothic mansion on which the park is located. For families with little ones and park goers looking for something a little slower, Alton Towers has smaller coasters and less extreme rides.
Six Flags
Six Flags parks are dotted across the US, and while the parks may vary slightly, one thing they all have in common is a collection of coasters that draw in crowds from miles away. In fact, Six Flags is in constant competition with Cedar Point for having the most number of roller coasters in a single park, and these two theme park giants typically trade the record back and forth every few years.
For riders who just can't wait, Six Flags offers the Flash Pass, a priority boarding system that lets you bypass those long lines and jump on your favorite rides at will. Flash Pass pricing and policies vary between the parks and during peak riding times, so be sure to read the rules carefully. Passes can be purchased at the park at the Flash Pass booth. A limited number of passes is available each day, so be sure to get there early.
Find Your Favorite Park
What is the best roller coaster park? Decide for yourself! Explore Love To Know's theme park profiles and figure out which ones deserve a spot on your travel itinerary.