Dining at Disneyland Resort and Walt Disney World has changed dramatically as the theme parks shed the stereotype of offering mediocre food. Top chefs are opening restaurants at some hotels and popular brands like Starbucks are opening locations within the parks themselves. While Disneyland Resort no longer offers their "Dine in the Magic" program, Walt Disney World offers a selection of Disney Dining Plans if you're booking a Disney vacation package or redeeming Disney Vacation Club (DVC) points.
What Is a Disney Dining Plan?
For Walt Disney World, the Disney dining plans are basically a way to purchase a selected number of meals ahead of time, similar to a voucher system. The new MagicBands keep track of your meals and, after your meal, the receipt will show how many meals are remaining for the room (not per guest).
Disney Quick-Service Dining Plan
The Disney Quick-Service Dining Plan is designed for those who want to enjoy all their meals on the go. The biggest benefit here is not having to mess with making dining reservations as all your meals are counter service.
Meals and Snacks Included
Each person in the group (ages 3+) will receive two quick service meals and two snacks for each night of their package stay. You will also receive a refillable drink mug, which is good for self-service beverage islands at Quick-Service locations at any Disney Resort Hotel. Each meal includes one entrée and one non-alcoholic beverage.
Snacks on the Plan
Snacks must consist of single serving items. Some of these include:
Frozen ice cream novelty, popsicle, or fruit bar
Popcorn scoop
12 oz. coffee, hot chocolate, or hot tea
Prepackaged milk or juice
Piece of whole fruit
Bag of snacks
20 oz. Coca Cola, Sprite, or Dasani water
20 oz. fountain soft drink
Items that are not included are those that are clearly more than an individual serving, like popcorn souvenir tins or a box of doughnuts, along with any items considered merchandise, like bottle toppers and straps.
Beverages on the Plan
The single-serving, non-alcoholic beverages included on the plan are:
Artisanal milkshakes
Fresh smoothies
Premium hot chocolate
Soda, coffee, or tea
Disney Dining Plan
On the Disney Dining Plan, you'll find over 50 Table-Service restaurants from which to choose. Reservations are subject to availability.
Included Meals on the Plan
Each person (ages 3+) will get one Quick-Service meal, one Table-Service meal, and two snacks for each night of their package stay. Each guest will also receive the refillable drink mug.
Disney Dining Plan members get the same Quick-Service meal options as those described above: one entrée and one beverage. For Table-Service restaurants, the options are:
Breakfast: One entrée and one beverage; or one full buffet or family style meal (excluding specialty beverages sold separately for remainder of 2017 only)
Lunch or Dinner: One entrée, one dessert, and one beverage; or one full buffet or family style meal
Snacks are the same as the Quick-Service option as well.
Deluxe Dining Plan
For those who want the best dining plan, consider the Deluxe Dining Plan. It gives you the most meals, complete with appetizers and snacks.
Included in the Deluxe Plan
Each guest (ages 3+) gets three meals and two snacks for each night of their package stay, along with the refillable mug. Deluxe Dining Plan members get all the benefits of the Disney Dining Plan, with the addition of an appetizer at Table-Service meals for lunch and dinner.
2018 Dining Plan Changes
In 2018, the new alcoholic beverage policy (for guests 21 and over) adds additional beverage options like:
Beer or cider
Wine or sangria
Mixed drinks and specialty cocktails
You must have valid ID to be served, and some exceptions apply. Additionally, you can only redeem alcoholic beverages with a Quick-Service or Table-Service meal entitlement, depending on your applicable plan.
Magical Dining Experiences
For Table-Service meals, there are some unique options, including dining with some of your favorite Disney characters. Note that these are only available for Disney Dining Plan and the Deluxe Dining Plan, and not with the Quick-Service option.
Cinderella's Royal Table: Requires two Table-Service meals to be redeemed per person, photos and gratuities not included
Private In-Room Dining: Available at select resorts, includes one entrée, one dessert (lunch and dinner only), one beverage; requires two meals to be redeemed; gratuities included
Pizza Delivery: One pizza entrée item, two single serving beverages, two desserts; requires two adult meals to be redeemed for each Pizza Delivery Meal; gratuities included
Dinner Shows: Can be used for Category 2 and 3 seating at all Dinner Shows; Category 1 seating at 8:30pm Hoop-Dee-Doo Musical Review (all subject to availability); requires advance reservations; 2 meals for each Dinner Show meal will be redeemed
Signature Dining Restaurants: More elegant options featuring a wider variety of cuisines; requires two Table-Service meals for each person; there is a "resort casual" dress code at these locations
For Deluxe Dining Plan members, you'll also get an appetizer included in Private In-Room Dining and Signature Dining restaurants.
Disney Dining Plan Prices
For 2017, pricing for the Disney Dining Plans are as follows:
Quick Service Dining: $48.19 per adult, per night (10 years and older); $20.88 per child, per night (ages 3-9)
Regular Dining: $69.35 per adult, per night (10 years and older); $24.95 per child, per night (ages 3-9)
Deluxe Dining: $106.88 per adult, per night (10 years and older); $38.75 per child, per night (ages 3-9)
In 2018, the prices for the plans are scheduled to increase a few dollars.
Quick Service Dining: $52.50 per adult, per night (10 years and older); $21.74 per child, per night (ages 3-9)
Regular Dining: $75.49 per adult, per night (10 years and older); $25.75 per child, per night (ages 3-9)
Deluxe Dining: $116.25 per adult, per night (10 years and older); $39.99 per child, per night (ages 3-9)
Gratuities and Additional Charges
Keep in mind that gratuities at most restaurants are not included, except at Dinner Shows, Private In-Room Dining, and Cinderella's Royal Table. If you add gratuity to your bill and haven't provided a credit card at check-in, you'll need to provide an additional form of payment. If you are a large group, an 18% gratuity is added automatically for parties of six or more. Disney reserves the right to add gratuity automatically for certain items you order that are not included in your Disney Dining Plan.
Dress Code for Signature Dining
Signature Dining restaurants include a dress code noted as "resort casual." This means certain clothing items are prohibited in the dining room. These include:
Tank tops
Swimsuits and swimsuit cover-ups
Hats for gentlemen
Cutoffs
Torn clothing of any kind
T-shirts with offensive language or graphics
Getting and Using Your Dining Plan
Guests booking a stay at a Disney Resort hotel can select from one of the Magic Your Way vacation packages.
To make reservations, visit the Walt Disney World Dining section, log on to My Disney Experience, call 407-WDW-DINE (939-3463), or talk to your Disney travel agent. Reservations, especially for popular restaurants, fill up quickly, so make your choices as quickly as possible to secure your preferred locations. Reservations open 180 days in advance of your first day of check-in at a Disney Resort, or 180 days in advance of a given day for those without a resort reservation.
To use your dining plan, present your Disney Resort ID (card or MagicBand) to the server or cashier at participating restaurants, and specify the number of meals and/or snacks being redeemed. Meals and snacks can be redeemed in any order until the number has been depleted. Any unused snacks and/or meals, along with refillable mug privileges, expire at midnight on the reservation check-out date.
To search for restaurants on the dining plan, visit Walt Disney World dining and select your applicable plan from the drop-down menu on the far right.
Examples of Dining Options
To understand the different dining options if you've never been to a Disney Resort, familiarize yourself with the different classifications of eateries.
Quick Service: These are restaurants where you go up to the counter, order, and then find a seat yourself. Food trucks and food carts also fall under this category. Popular examples at Walt Disney World include Casey's Corner, Columbia Harbour House, and Tomorrowland Terrace in Magic Kingdom Park. Options at the Disneyland Resort include such eateries as Flo's V-8 Cafe and Pacific Wharf Cafe in Disney California Adventure or Red Rockett's Pizza Port and Rancho del Zocalo in Disneyland.
Signature/Fine Dining: Options at Disneyland Resort include Carthay Circle Restaurant in Disney California Adventure, Napa Rose at Disney's Grand Californian Hotel & Spa, Catal Restaurant in Downtown Disney District, and Steakhouse 55 at the Disneyland Hotel. Walt Disney World has a significantly higher number of high-end restaurants including Jiko - The Cooking Place at Disney's Animal Kingdom Lodge, Il Mulino at Walt Disney World Swan Hotel, Todd English's bluezoo at the Walt Disney World Dolphin Hotel, and Flying Fish at Disney's Boardwalk.
Table Service: These restaurants pretty much encompass the "in-between," more casual dining restaurants that offer table service rather than ordering at a counter. La Brea Bakery and Wine Country Trattoria are examples at the Disneyland Resort, while the Plaza Restaurant and Grand Floridian Cafe are examples at Walt Disney World.
Hardest Walt Disney World Reservations
There are a number of Table-Service restaurants that are very popular and are therefore hard to reserve. Some of these include:
Cinderella's Royal Table
Be Our Guest Restaurant
Chef Mickey's
Victoria and Albert's at the Grand Floridian
Akershus in Epcot
California Grill
'Ohana
Le Cellier Steakhouse Epcot
Rose & Crown Dining Room
If you are striking out on reservations for any of the above, check out Touring Plans' recommendations on viable alternatives that are easier to secure.
Character Dining Options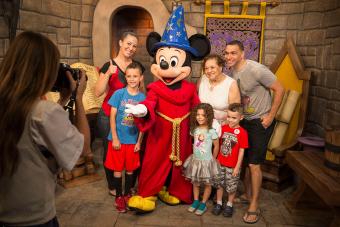 Walt Disney World has a variety of options for dining with Disney characters. Some of these include:
1900 Park Fare (Disney's Grand Floridian Resort & Spa)
Akershus Royal Banquet Hall (Epcot)
Cape May Cafe (Disney's Beach Club Resort)
Chef Mickey's (Disney's Contemporary Resort)
Cinderella's Royal Table (Magic Kingdom)
The Crystal Palace (Magic Kingdom)
Disney's Perfectly Princess Tea (Disney's Grand Floridian Resort & Spa)
Garden Grill (Epcot)
Hollywood & Vine (Disney's Hollywood Studios)
Mickey's Backyard BBQ (The Campsites at Disney's Fort Wilderness Resort)
'Ohana (Disney's Polynesian Village Resort)
Tiana's Riverboat Party (Magic Kingdom)
Trattoria al Forno (Disney's Boardwalk)
Tusker House Restaurant (Disney's Animal Kingdom Park)
Saving Money on Disneyland Dining
Since Disneyland Resort in California doesn't offer similar Disney Dining Plans to those available at Walt Disney World in Florida, you may be wondering how to maximize your savings when visiting the Anaheim resort. Aside from being an annual passholder, which entitles you to some dining discounts, there are some other ways you can save on food at the Disneyland Resort.
Make breakfast in your room rather than eating in the park. This also saves you time and gets you on the rides sooner.
If you have a small appetite, order from the kids menu if you're eating at a counter service restaurant as there is no way to know for whom you are ordering the meal. Adults cannot order from the kids menu in full service restaurants, so keep that in mind if you are a light eater.
Mousesavers has an invaluable section on all the ways you can save money on Disney dining at Disneyland, including everything from joining email lists for restaurants nearby to getting printable coupons that get you free food and discounts at various restaurants.
D23 Members and Disney Visa credit card holders are also entitled to discounts at select restaurants.
Choosing a Dining Plan
If you're trying to narrow down options to choose a dining plan, factor in your regular travel and dining habits.
Is food a big part of your travels or do you typically grab a bite on the run? If you're traveling with small children, springing for the deluxe plan with lots of lengthy sit-down options may not be ideal. However, if you're on your honeymoon, the Deluxe Dining Plan may be the perfect choice. Do you want your entire trip to be scheduled for meal times? You may find yourself planning attractions around all your meals and that takes away some of the "Disney magic" and spontaneity of the trip for some guests.
In the end, purchasing a dining plan is a very individualized decision, but there is no doubt that dining plans are definitely popular at Walt Disney World, as diehard Disney fans enjoy the ability to have scheduled reservations without worrying about paying for meals each day.