Those wanting to get an up-close-and-personal view of wild animals in their natural habitat should consider booking the Wild Africa Trek at Walt Disney World. The privately guided VIP expedition is located inside Disney's Animal Kingdom Theme Park at Walt Disney World Resort in Orlando, Florida. It takes visitors on a safari through Africa without ever leaving the state.
What to Expect on the Trek
The tour starts off with a walk along a grassy path where you will also cross a rope bridge, and then you'll hop in a safari vehicle that will take you through the open savanna for the second part of the tour. Some of the African animals you can expect to see include giraffes, rhinos, hippos, and crocodiles. During the tour, your expert guide will talk about the animals and discuss Disney's conservation efforts here.
You'll receive a special souvenir at the end of the tour, along with a photo code to download copies of all the photos taken by the Disney professional photographer.
African-Inspired Snacks
After your tour concludes, you'll get to sample delicious, African-inspired snacks as well. The morning menu may include such items as:
Air-dried beef and prosciutto
Smoked salmon roulade with dill
Fig cake with Boursin cheese
Brie cheese and apricot
Berry yogurt and dried cranberries
Fresh fruit marinated in mint and ginger
If you choose to embark on an afternoon tour, the menu changes accordingly.
Chicken curry salad
Sun-dried tomato hummus and mini pita
Marinated tandoori shrimp
Smoked salmon roulade with dill
Air-dried beef and prosciutto
Fresh fruit marinated in mint and ginger
Tour Times and Booking Details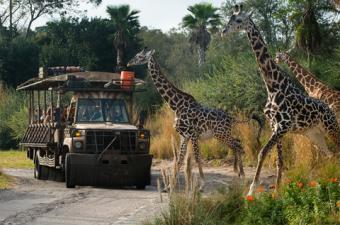 Treks last for three hours and they run daily. Availability varies based on reservations already booked. Times that may be available include:
8:00 a.m.
8:45 a.m.
9:30 a.m.
10:15 a.m.
11:45 a.m.
12:30 p.m.
1:15 p.m.
2:30 p.m.
To check the availability for your preferred dates, look at Walt Disney World's website and click on the calendar. It will tell you the times for that particular day.
To book a tour, you need to call for reservations ahead of time at (407) WDW-TOUR or (407) 939-8687. If you know the date you want, it's better to book sooner rather than later since tours are capped at 12 people.
Prices and Discounts
The price of Disney's Wild Africa Trek ranges between $189 and $249, which does not include tax. You must check in at the Harambe area location on time, or you will forfeit your spot and lose the entire price of the tour. This also applies if you cancel within two days of your reservation.
Depending on the time of year you go, you may be able to secure a discount on this tour. Check Walt Disney World's website for current specials, or inquire when you're making the reservation. If you have a Walt Disney World Annual Pass, ask about any applicable discounts for passholders.
Physical Requirements
As this is a physically strenuous activity, there are health guidelines and requirements that aren't necessarily in place for other rides and attractions at Disney theme parks.
You must be ambulatory and in good health. No high blood pressure, heart, back, or neck problems. No expectant mothers.
You must be between 45 and 300 pounds with the harness gear attached. The gear is a bit awkward, which means guests of certain sizes or shapes may have trouble participating.
You should have the physical stamina to negotiate small hills and unsteady rope bridges. If you have a fear of heights and issues with balance (like vertigo), you may have difficulty on this attraction.
If anyone in your party has mobility concerns or needs a wheelchair accessible trek, talk to the reservations department for alternative programs that are better suited to your situation.
Important Information
Here are some important things to note before booking and going on the Wild Africa Trek at Disney's Animal Kingdom Park.
Valid admission to Disney's Animal Kingdom Park is required on top of the fee for the trek itself.
If you don't already have a locker for the day, guests are provided with complimentary lockers.
You can only bring a camera if it can be safely attached to your vest. Otherwise, it needs to be left in the locker.
Excursions take place in inclement weather, so the trek will go forth in the rain, of which Orlando gets a lot. They only cancel during extreme weather or lightning storms.
Dress appropriately. Dresses and skirts are not advised.
No flip-flops will be allowed. You are required to wear closed-toe shoes with a back strap or have hiking boots. If you have to bring separate clothes for this activity, get a locker in the park and leave them for the remainder of the day.
Guests under 18 are required to be accompanied by an adult, and all participants must be at least 8 years old and 48 inches tall.
Reviews of Wild Africa Trek
WDW Info noted that they are very strict on the rules and regulations here-you weigh in before the trek and they don't allow you to carry much of anything with you on the trek. Even Magic Bands had to be removed and stashed in the lockers. Sunglasses need to be attached (they will provide croackies) while on the trek as well. The reviewer also noted that while it was exciting and felt like you were in Africa, there was a comfort level of safety that you might not get in Africa itself.
If you're concerned about others being able to see your weight, DIS Unplugged notes that no one else can see your weight except the Cast Member. Really want to bring your DSLR? The reviewer noted that you can, as long as there is a way to attach it to yourself, and it's best to only bring the lens attached to the body itself.
TripAdvisor reviewers consistently rate this tour as a 5-star experience, exclaiming it's one of the best things they've done. Of the miniscule number of 1-star reviews, most center around the price and the feeling of being rushed. One reviewer did note difficulties with wheelchair access on a specific tour that was supposed to facilitate handicapped guests. So, be sure to confirm details if you're planning to attend with someone who needs a wheelchair.
Some thorough and visually interesting posts to read on the Wild Africa Trek experience can be found at Disney Food Blog, Touring Plans, and Luxury Travel Mom.
Is the Wild Africa Trek Worth It?
The biggest concern about the experience is whether it's worth the price. After paying hundreds of dollars in general theme park admission, you're paying at least $189 more just for this VIP experience. There is the Kilimanjaro Safari (KS) included in general park admission, which begs the question as to whether the additional VIP tour is worth it.
According to WDW Info, it definitely is worth the price. Aside from an intimate experience that feels less like a theme park, since tours are capped at only 12 guests, you get to see animals closer up than with KS. You may see some of the same areas on the free attraction, but you won't get up close to the hippos, or cross the bridge that brings you right by the crocodiles, for example.
Plus, you get souvenir items, a themed snack, the PhotoPass photos, and they make a donation to the Disney's Wildlife Conservation Fund for every tour sold, which makes it a good value for those interested in exclusive VIP Disney experiences.
Incorporating Into Your Animal Kingdom Visit
Booking as far in advance is definitely recommended. If you're trying to coordinate with other aspects of your Disney vacation, like Disney dining reservations, consider booking those first since they can be much more difficult to obtain. You can also save a few dollars by booking the afternoon tour which is obviously a hotter time to go. Consider spending the morning at one of the other parks, head over to Animal Kingdom for your safari, then you can go back to your hotel room. Cool off for a bit, shower, drop off any purchases and souvenirs, and then you're ready to head back after the sun goes down for a fun-filled Disney evening!