Aquaventure Waterpark at Atlantis The Palm in Dubai
Atlantis, The Palm in Dubai is a luxury resort that opened its doors in September 2008. It is the first resort built on Palm Jumeirah and, while the theme is geared around the myth of Atlantis, the property also includes Arabian elements. The Aquaventure Waterpark is one of the biggest attractions at Atlantis, The Palm. It is an enormous waterpark situated on 42 acres within Atlantis, The Palm. It was voted as the Middle East's Best Water Park in 2010 by World Travel Awards, and has a number of attractions to keep you entertained - and cool!
Adventure Slides at Aquaventure Waterpark
Those in search of water adventures will likely find what they are looking for in the Tower of Neptune and Tower of Poseidon areas. Note that some attractions have a 1.2 m (approximately four feet) minimum height requirement.
Tower of Neptune
Tower of Neptune is the Aquaventure area for adventure seekers with a wild side.
The Leap of Faith slide will have you shooting down 9-stories in a mere second before you find yourself speeding through a clear acrylic tube under a pool surrounded by sharks and rays.
If you like feeling the thrill in pairs, the Shark Attack slide is a two-person inner tube slide through a completely black tunnel, ultimately passing through the shark tank.
The Master Blaster Water Coaster is, as the name suggests, a crossover between a water slide and roller coaster - a water coaster. This ride starts off in an inner tube through a pipe that climbs and drops, similar to a roller coaster. Finally, you enter a completely dark tunnel and into an open slide that uses water jets to move you along certain areas. This is a truly a unique experience for any thrill seeker.
Tower of Poseidon
Tower of Poseidon offers a mix of adrenaline-fueled experiences. It features the best thrill seeking water experiences in the Middle East with five different adventures to pursue.
The Aquaconda is the world's largest water slide tube. It can send six people in one raft down the slide, with speeds up to 35 km/h (22 mph). Aquaconda stands at 22 meters (82 feet) tall.
The Slitherine is the world's first dual water slide within a water slide. The 182-meter (597-foot) long slide is a single person ride, sending you through the belly of the Aquaconda slide. The adrenaline pumping is immediate as you start the slide 31 meters (102 feet) in the air.
Poseidon's Revenge is more intense than the other slides. You enter into a capsule and, when you are secure, the floor collapses beneath you and sends you down a 166-meter ( 380-foot) slide that travels up to 60 KMH, or 37 MPH. This is the UAE's first dual racing loops water slide, propelling you upside down. Another cool feature about this slide is its ability to capture your time so, at the end of the slide, you can see who has the fastest time down.
Zoomerango Jump in a multi-person raft and experience mega drop plummets, vertical zooms, and even a burst of weightlessness.
Atlantnean Flyers is the first of its kind to incorporate a zipline into a water tower. According to Atlantis, The Palm, it's the longest zipline in the Middle East at 500m (1640 feet) long. Fly 20 meters above Aquaventure Waterpark and check out views of the entire park, including the hotel.
Splasher's Children's Play Area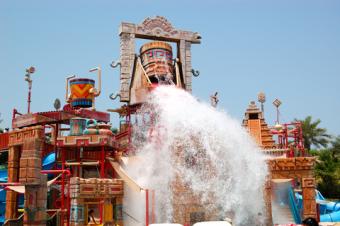 Splasher's Children's Play Area is an enormous water playground designed for children not yet tall enough to go on the adventure slides. This area features ten slides, two dump buckets, rope bridges, climbing areas, and water jets. There is plenty to entertain the younger ones if they have the energy to keep up.
Rolling River
The Aquaventure Park features a 2km (1.25 mile) rolling river that circles around and goes through the entire park. This offers the perfect way to unwind at the end of a busy day.
Unique Experiences at Aquaventure Waterpark
For these experiences, children under 16 must be accompanied by an adult
Cownose Ray Feeding
Looking for a different type of waterpark experience? Atlantis, The Palm in Dubai offers a cownose ray feeding experience. This starts with a professional caretaker briefing guests on the educational information needed before entering the pool. The caretaker will then guide you into waist high water to feed the cownose rays. This experience lasts approximately 30 minutes.
Cownose ray feeding happens daily. This is a popular activity, so don't expect to wait until the day before to be able to book. It is best to call ahead. Children are allowed to participate, but they must be at least 3'11" tall. Cownose ray feeding is a separate admission experience, costing $48 USD ($175 EAD) per person.
Shark Safari
The Shark Safari shark tank diving experience is another option at Aquaventure Waterpark. This is both an educational and adventurous experience. Guides will give you an overview of safety and procedures in the tank and teach you about the sharks. The minimum age is eight and everyone must be scuba certified. Three people are allowed in at a time and the dive lasts 30 minutes.
Don't feel left out if you don't have a certification, as you can book your PADI Discover Scuba Diving course at Atlantis, The Palm. This experience costs $80 USD ($ 295 EAD) and includes the necessary scuba gear. If you want to photograph your adventure, there are GoPro cameras available for rent as well.
Planning Your Visit to Aquaventure Waterpark
Aquaventure Waterpark is open daily from 10:00 am to sunset. During the winter months, sunset is around 5:30pm and around 7:00pm during the summer months.
When to visit: Some helpful tips from reviewers on TravBuddy include visiting Sunday through Thursday for the smallest crowds, as well as earlier in the day. By mid-day, expect to see the number of visitors to increase.
Tickets: As of January 2015, entrance prices into Aquaventure Waterpark are based on height, unless you are staying at the resort. Children 3'11" (1.2m) and under will cost $56 USD ($205 EAD). Those taller than 3'11" are $70 USD ($ 250 EAD). Children under 2 years old enter for free. Discounts are sometimes available for UAE residents. Tickets are also available for combination experiences to other parks within The Atlantis Resort, The Palm in Dubai.
Age: Kids under 12 are not admitted to the park unless accompanied by an adult.
Dress code: There are certain dress codes in effect when inside the waterpark and in the pools, so be sure to consult the regulations. Some basic restrictions include appropriate pool attire required by anyone in the pools. This means no overly revealing swimwear like thong bikinis or garments that the management would consider inappropriate.
Dining: There are food kiosks throughout the park, so no need to worry about going back into the hotel all wet to grab a quick bite.
Supplies: Towers, lockers and towels are also available for rent when inside the waterpark.
Park Route: The suggested itinerary for most waterparks is to start with the big slides first, then slowly work your way down by height. Why is this tip important? Climbing nine stories for the tallest slide can take a toll on you.
Have a Great Time at Aquaventure Waterpark
Online reviews of Aquaventure Waterpark are overwhelmingly positive, with most reviewers having an extraordinary time. If you're looking for a way to cool off and have a great time in Dubai, this is an excellent choice.