Geyser Falls Water Theme Park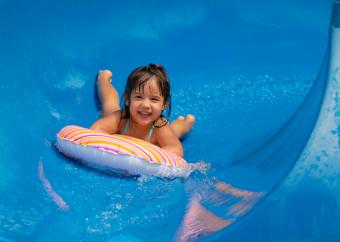 Central Mississippi might not be the first place that comes to mind when you're thinking of a tropical getaway, but the Geyser Falls Water Theme Park brings all the atmosphere of the Florida Keys right to this inland region. Located at 209 Black Jack Drive in Choctaw, Mississippi, near Philadelphia, the park offers a little something for everyone, including several acres of white sand beaches.
Geyser Falls Water Park Attractions
Geyser Falls mixes kid-friendly attractions with adult-oriented fun. Everyone in the family will find a favorite among these rides and adventures:
Geyser Flats
Geyser Flats is Geyer Falls' welcome mat. This massive geyser greets guests with a refreshing blast of mist as they enter the park. If you don't plan to get in the pools but need a cool down throughout the day, come back and bask in the spray anytime.
Backsplash
As the first backwards water slide in America, Backsplash is a one-of-a-kind experience. You and a friend hop in a two man raft and zip around this hills and curves of the slide, before being twisted around to drop down the last hill backwards into the pool below. Note that you must be at least 48 inches to ride the slide and that you and your companion must have a combined weight between 140 and 400 pounds.
Roundabout River
For a relaxing time, grab a raft and float along the 1,200 foot long Roundabout River. A gentle current keeps you moving along, and if you get too hot, paddle over to one of the waterfalls scattered along the path of the river for a cool down.
Clearwater Key
Clearwater Key is Geyser Falls answer to an all-inclusive beach resort. There are eight miles of sandy beaches and pools inside the key, along with 300 palms tress to give it an authentic Keys feel. You can also opt for a spa style experience in the Rainbow Springs Hot Pool located inside Clearwater Key or dine in the My Tie Cafe.
Lil' Squirts Hollow
Lil' Squirts Hollows is destination number one for the under 48 inches set. Young park goers can enjoy a number of attractions in this kid-friendly park zone, including mini water slides and sprinklers.
Thunder Lake Wave Pool
Try your hand at surfing at Thunder Lake. Ride the waves in a raft or opt for body surfing on the constant supply of two to four foot breaking waves. Everyone is welcome at Thunder Lake, but anyone under 48 inches must wear a life jacket into the pool. Jackets are provided free of charge at various locations around the park.
Pipe's Peak
Plunge four and a half stories in a double tube raft into the pool below in this water slide adventure. Pipe's Peak features four slides, each with its own unique network of twists and turns. You must be at least 48 inches to ride this ride.
Mt. Everwet
Get ready for speed on these six story high slides. Mt. Everwet encompasses three slides: Brave Freefall, Threefall and Nightfall, which is enclosed so you ride in the dark. Riders must be at least 48 inches tall.
Whitewater Express
Think you're the fastest slider in the park? At Whitewater Express, you'll team up against other park goers on a 300 foot slide to see who makes it to the pool the fastest. The slide is set up like a real racetrack, with checkered flags and official speed readings. Racers must be at least 42 inches tall to compete.
Dining at Geyser Falls
There are three places to dine at the park:
The Beach Club
The Beach Club is set up like a Caribbean bar and features a full service indoor restaurant, plus a tiki bar and heated pool. There is also live music at the club. The menu includes wings, nachos, salads, wraps, burgers and fried seafood.
My Tie Cafe
The My Tie Cafe, located in the Clearwater Key portion of the park, features nachos, hot dogs, burgers, quesadillas, salads and ice cream. Indoor and outdoor seating is available.
Afo's Canyon Creek Cafe
Afo's Canyon Creek is set up like a mall food court and designed for grabbing food on the go. Pizza, chicken fingers, burgers and dogs are all available. Seating is outdoor only.
Private Cabanas
If you want to visit Geyser Park in style, consider renting a private cabana for the day. The cabanas are dotted throughout Clearwater Key along the beaches and pools. Each cabana has a love seat, two chairs, 42 inch cable TV, telephone and the services of a host for the entire day.
Cabanas are rented on a first come, first served basis - no advanced reservations are allowed. As of the 2011, cabanas rented for $150 per day during the week and $200 per day on weekends and holidays.
Visiting Geyser Falls
As of 2011, general admission to Geyser Falls was $34.99 for adults and $24.99 for anyone under 48 inches as well as anyone over 60. Kids three and under get free admission.
Season tickets are available for $74.99 for 12 and up and $59.99 for ages 4 - 12. Discounts are available for groups of 20 or more. The park also offers a number of birthday party packages.
Season ticket passes can be purchased online. All other tickets must be purchased at the gate.
Directions to Geyser Falls can be found on their website.